What is Grain Free?
Savory isn't complete without garlic and onion. When you're looking for a grain free flavor bomb without the drenched cane sugar, tapioca syrup, and fake flavor, these are your go to. With carefully chosen spices and the simplicity of just one nut, these convenient treats fulfilled our deepest savory dreams. Eat them by the fistful, on top of salads, or put on your best Martha Stewart face and spice up the party by tossing them in your favorite party mix.
Ingredients: Walnuts, Maple Syrup,* Garlic*, Onion*, Salt
Contains Walnuts.
*Denotes Organic Ingredient
Non-GMO
Grain-Free
No Refined Sugars
Low carbohydrate
Peanut Free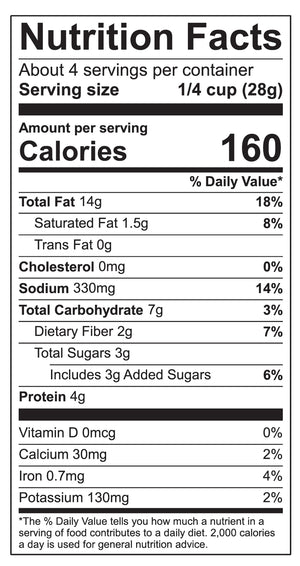 Other Grain Free Products
You save 8% every time when you choose this option. You choose how often you want us to ship your delicious choices and we will take care of the rest. You can always modify your subscription when you log into your account.