What is Grain Free?
Never doubt a classic. Fancy can be fun but let's admit it, there is nothing like a true staple. Happy being a basic bean, our Vanilla Bean leaves out the trendy long list of ingredients for classically simple, real food. With the perfect combination of nuts, seeds, and our decadent vanilla bean, it's about to be the pantry's new cool kid on the block. 
Ingredients: Almonds, Pecans, Walnuts, Pepitas*, Maple Syrup*, Sunflower Seeds*, Coconut Oil*, Vanilla Extract, Vanilla Bean
Contains Almonds, Coconut, Pecans, Walnuts
*Denotes Organic Ingredient 
Non-GMO
Grain-Free
No Refined Sugars
Low carbohydrate
Peanut Free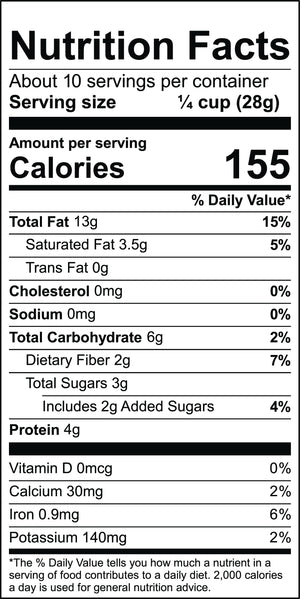 Other Grain Free Products
You save 8% every time when you choose this option. You choose how often you want us to ship your delicious choices and we will take care of the rest. You can always modify your subscription when you log into your account.