What is Grain Free?
Toasted Coconut and freeze-dried pineapple - yup, we just did that. We'll admit it, our love for coconut got the best of us here. Pina Colada combines just the right amount of nuts and seeds with our signature coconut blend and freeze dried pineapples. It's not just a summertime snack, it's an every time snack.
Ingredients: Dried Coconut*, Almonds, Honey*, Maple Syrup*, Coconut Oil*, Sunflower Seeds*, Pepitas, Pecans, Flax Seeds*, Dried Pineapple*, Vanilla Extract.
 Contains Pecans, Almonds, Coconut.
*Denotes Organic Ingredient 
Looking For Inspiration? 
The list of recipes you can use our Pina Colada Grain Free Granola is endless. You could start with either one of these Pina Chia pudding recipes here and here.  Then later on in the day serve up our Paleo Pina Colada recipe poolside later on.   
And any time you're looking for some more inspiration, you can find all of our other Grain-Free Recipes here. 
Non-GMO
Grain-Free
No Refined Sugars
Low carbohydrate
Peanut Free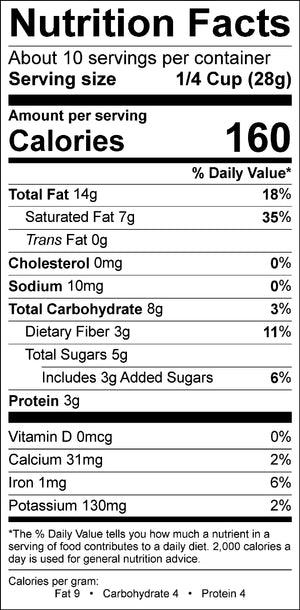 Featured Grain Free Ingredients
Coconut
Wow! What doesn't this powerhouse have? Containing many fats, coconuts are known for the oil containing MCTs which are medium chain triglycerdies. In plain English, they are a good source of energy and are metabolized by the body faster than other fats which have longer chains.

Coconuts also contain Caprylic acid which is a type of beneficial saturated fatty acid that has antibacterial and antiviral properties. On top of all of this, coconut is just plain delicious!
Other Grain Free Products
You save 8% every time when you choose this option. You choose how often you want us to ship your delicious choices and we will take care of the rest. You can always modify your subscription when you log into your account.