What is Grain Free?
Keep it simple with the best of what mother nature has to offer. Our Cinnamon Blueberry Paleonola has got you covered from the morning to that late-night snack attack. We blended organic blueberries with the deliciously sweet taste of cinnamon and coconut. Inspired by a childhood favorite but with a healthy twist, it could just be one of the best creations we've ever made - yea, we said it. With just eight real food ingredients that pack a nutrient-dense punch, it's time to step up your breakfast game. Your cereal bowl will thank you.
Ingredients: Dried Coconut*, Almonds, Maple Syrup*, Coconut Oil*, Freeze Dried Blueberries*, Pecans, Cinnamon, Vanilla Extract.
Contains Pecans, Almonds, Coconut.
*Denotes Organic Ingredient
Looking For Inspiration? 
Check out our easy-to-make Cinnamon Blueberry Granola Cookie recipe. These granola cookies are the best of both worlds: sweet and healthy. A gluten-free granola cookie recipe that features only a few ingredients that you can easily whip together? Yes, please. So, what are you waiting for? Smiles all around for this grain-free cookie face. 
You can find all of our Grain Free Granola here and any time you're looking for some more inspiration, you can find all of our other Grain-Free Recipes here. 
Non-GMO
Grain-Free
No Refined Sugars
Low carbohydrate
Peanut Free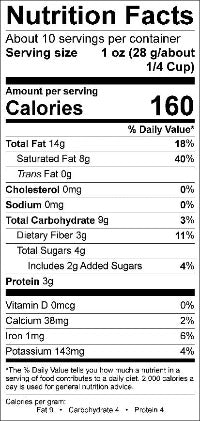 Featured Grain Free Ingredients
Coconut
Wow! What doesn't this powerhouse have. Containing many fats, coconuts are known for the oil containing MCTs which are medium chain triglycerdies. In plain English, they are a good source of energy and metabolized by the body fast than other fats which have longer chains.

Coconuts also contain Caprylic acid which is a type of beneficial saturated fatty acid that has antibacterial and antivirals properties. On top of all of this coconut is just plain delicious!
Other Grain Free Products
You save 8% every time when you choose this option. You choose how often you want us to ship your delicious choices and we will take care of the rest. You can always modify your subscription when you log into your account.